In 2021 we launched the 'Experience Heijmans' (Maak het mee bij Heijmans) recruitment campaign. To create a healthy living environment and to make sure Heijmans can continue to make things better, smarter and more sustainable long into the future we need the best people. Heijmans employees played a leading role in the campaign. Wilco van Bethlehem, Roos Godefrooij, Denise Kerindongo and Hakim Bouzaadalla talked about their journey at Heijmans.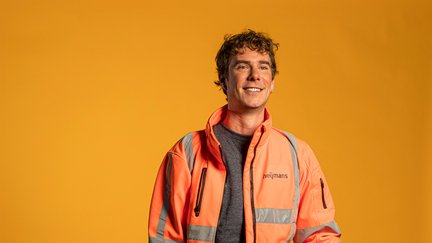 Why did you want to take part in the Experience Heijmans campaign?
"Well, I didn't think for a minute that they'd ask me. Of course I said yes straight away, because I was flattered and I like being the centre of attention."
What's your experience of 'continuous development' at Heijmans? And what opportunities have you been given for your personal and professional growth?
"Following the completion of my civil engineering studies, I wanted to be a construction foreman. But Heijmans advised me to start as a work planner. I didn't want to do that at first, because I wanted to work outside, not drawing up work plans at a laptop in an office. Looking back, I'm really happy with that advice, because as a work planner I learned a lot about requirements and processes. On top of that, I met a lot of people. And in the end, I moved on and got to work outside as a construction foreman. And now I'm a chief! If you want to keep growing, and if you let people know that and have the ability, you can climb pretty quickly at Heijmans."
"I talk to my manager a lot about what I need right now to continue to grow and develop. I'm 32, but I'm constantly learning new things. It's fantastic that I was given the opportunity to become a chief. And I'm already being asked: where do you see yourself in five years? I'll be thinking a lot about that in the coming period."
How do you carve out your own path within Heijmans?
"Be open to others, talk to people as much as you can and show an interest in your colleagues. But follow your instincts. Most importantly, don't try to do things beyond your ability, as you'll be on tenterhooks the whole day. You have to take the time you need to grow into your job, before you start looking at the next step. And I'd advise everyone to take the initiative as much as you can."
What does a yellow heart mean to you?
"Every time I see the Heijmans yellow on vehicles and equipment I feel a sense of pride. I also follow Heijmans in the media and online via LinkedIn. For me, a yellow heart means also supporting your club. We're a tight team. If something goes wrong at the weekend, in the middle of the night or in the holidays, we go through fire and water to help each other out."
What is the biggest misconception about working in construction? And what makes working in construction so challenging?
"That it's all about hard work and that it's rough. Lots of lugging with heavy beams and digging holes with a spade. And a lots of macho behaviour. Luckily, that's not always true. In my team, safety comes first. This means that you're aware of what you're doing with your body, so you pick things up the right way.
I don't mind getting up early, that's just in my nature. And if you enjoy your job, it doesn't feel like hard work. The challenge in my work is finding a compromise between the project budget and maintaining a good atmosphere on the building site. Besides that, safety is always our number one priority!"

How can your colleagues help to make this campaign a success?
"The main thing they can do is to share lots of job vacancies and success stories on their own social media channels. They can also help by talking a lot about what we do at Heijmans and why we enjoy working here so much."
Why did you want to take part in the Experience Heijmans campaign?
"Besides the fact it's fun to spend a day surrounded by creative photographers and film makers, I really wanted to act as an ambassador for Heijmans, to show the world what I do. As a data and business developer, I'd love to shine a spotlight on my profession, because data is the new raw material for the construction industry. You can use data to align buildings and structures more effectively with society's needs; you can use data to makes changes transparent, plus you stimulate innovation. What drives me is figuring out future questions, the ones we'll have to find answers to at some point down the line."
How do you carve out your own path within Heijmans?
"In my two-and-a-half years with Heijmans, I've put on my entrepreneurial cap and gone off on my search for where I can add the most value. You get that kind of freedom at Heijmans. I'm always on the look-out for people who energise you and places where I can use my expertise to help."
What's your experience of 'continuous development' at Heijmans, and what opportunities have you been given for personal and professional growth?
"What I've developed most at Heijmans are soft skills, on the strategic and organisational front. What steps do you need to take to achieve your goal, who do you need for that, what are the right conditions for success and how do you get people on the same wavelength? I've learned a lot on those fronts. Although you have to formulate your own request and find the right colleagues to help you, at Heijmans you get all the help you need. What's more, you're given plenty of room to find help and inspiration outside Heijmans."
What makes working in construction so challenging?
"Construction is a sector still facing numerous transitions. And the sheer size of companies and operations can make that quite difficult. Because we work on major projects, our risk awareness is very, very high. You can't simply take new steps, and innovation has to be well thought out. That's exactly what makes working in this sector interesting for me."
What does a yellow heart mean to you?
"For me, it stands for Heijmans' vison: the creation of a healthy living environment. Where do we want to go and how do we want to get there? Everyone has a part to play in that, and what's great is that everyone feels that. How do I use my expertise and experience to help create that healthy living environment?"

What can colleagues do to help to make this campaign a success?
"Be open and talk as much as possible to anyone who's interested, tell them about our goals at Heijmans and how you can have an impact. Look for contacts with people who have the drive we need and make them enthusiastic by talking about what you do and the room you're given to innovate!"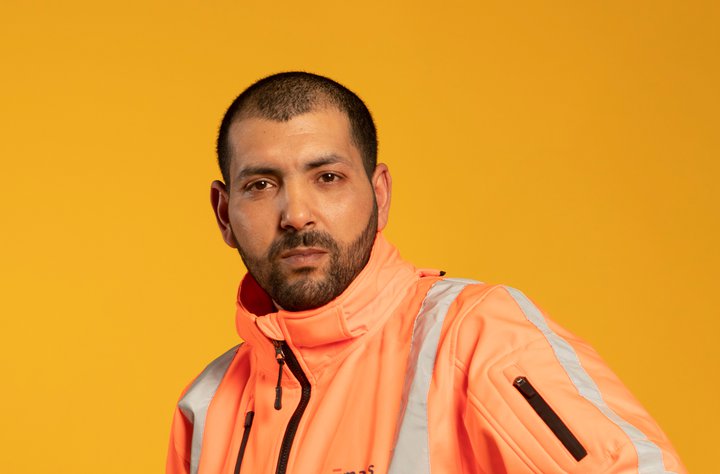 Why did you want to take part in the Experience Heijmans campaign?
"My brand new manager put me forward as a 'top talent in our company'. I could hardly say no after he'd used those words to describe me, could I? Anyway, I'm really happy with the photos. I look really good in them, ha ha."
What's your experience of 'continuous development' at Heijmans? And what opportunities have you been given for personal and professional growth?
"I've been given lots of opportunities and I've seized them. I got to know Heijmans when I was working as a freelance electrician and I've now had a permanent contract for four years. I've been able to develop and grow in my own way at Heijmans. When I put myself forward for the position of low-voltage technician, Heijmans arranged that very quickly. This was quickly followed by a training course for medium-voltage technicians and I'm keen to keep learning so I can qualify as a senior technician. My ultimate goal is to be a chief foreman. It's not every company that happily sends you back to school for a couple of months, so you can learn on the job."
How do you carve out your own path within Heijmans?
"I feel more and more confident about joining in discussions on how we approach assignments. If I propose something, people listen to me and if it's a good idea we make changes to previous plans. Sometimes I'm also made responsible for an assignment, which means you're allowed to shut down the electricity and take the appropriate safety measures."
What does a yellow heart mean to you?
"That you can count on your colleagues, that they're always ready to jump in and help me. For the past five months, we have been working with Liander in Amsterdam and that takes us to every part of the city. And if I see a yellow hut somewhere, I always step inside for a quick cup of coffee."

What makes working in construction so challenging?
"Just the mention of the word 'construction' puts people off. Everyone thinks you spend all your time working in a ditch, but that's just a small part of our work. There is a lot more to Heijmans! In my job, in infrastructure technology, I do lots of very different things. What makes it so enjoyable is the fact that you're somewhere different every day, I get to spend lots of time outside and I have a lot of freedom."
What can colleagues do to help make this campaign a success?
"I talk to my family and friends a lot about my work. I'm enthusiastic about it, and sometimes I bring lads along to visit Heijmans. I know a lot of freelancers and if they're good I tell them they could also enjoy working at Heijmans. The pay is good, your pension and holidays are all well sorted and you can follow all kinds of training courses. Heijmans is simply a good employer."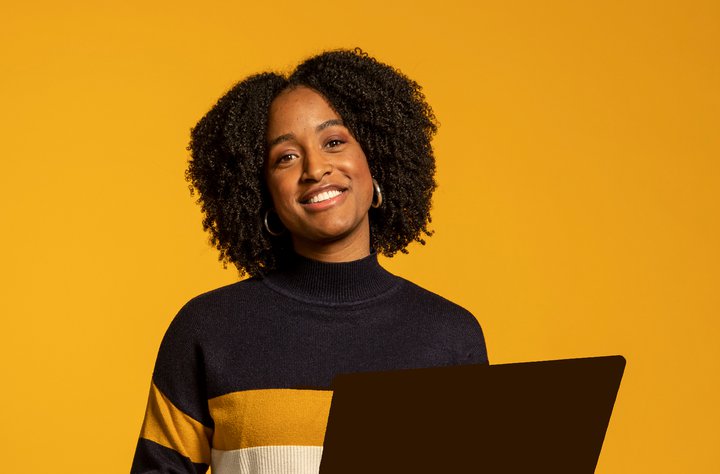 Why did you want to take part in the Experience Heijmans campaign?
"Despite that fact that I'd only been working here for two months, of course I wanted to take part in a campaign aimed at recruiting young talent for Heijmans. It's great that the campaign shows that lots of young people work here! And that the construction industry is not just a man's world. Lots of women work at Heijmans.
What's more, by taking part you show that you can do lots of different things in construction. For instance, I'm involved in a study into the reuse of concrete and I check and calculate constructions for ongoing building projects. Will the building stay up? That's what I'm responsible for, along with my Design & Engineering colleagues in the Non-Residential Building business unit."

What's your experience of 'continuous development' at Heijmans? And what opportunities have you been given for personal and professional growth?
"In my time with the company, I've seen and seized all kinds of opportunities. My main focus is on finding the connection between technology and sustainability, and I've found that in the 100% circular concrete working group. That's where I and my colleagues from numerous departments are drawing up a plan of approach for sustainable and circular building. And thanks to my study into the use of recycled concrete, I'm making a direct contribution to those plans. For instance, how big can the share of recycled concrete be before we compromise the strength of the construction? That is key question."
How do you carve out your own path within Heijmans?
"By moving forward on Heijmans' ambition to be a creator of a healthy living environment. I think it's great that Heijmans is thinking about how we want to leave the world for the generations that will come after us. I find that as a statement incredibly motivating, also because you can see that people right across the company are working on that goal. As a trainee, you can work alongside people in various parts of Heijmans, and I'm making full use of that opportunity. It's great that you can say what you want to learn and what kind of expertise you'd like to explore."

What does a yellow heart mean to you?
"That you as an individual are part of a greater whole, but also that my colleagues are so enthusiastic about involving me in their work and about teaching me all kinds of things."

What is the biggest misconception about working in construction? And what makes working in construction so challenging?
"Working in construction involves a lot more than people think. Even the graduate architect from TU Eindhoven has little idea about all the things that go on in a construction company. Not everyone is a construction worker, to give one example. You need all kinds of functions to complete a project."
What can colleagues do help to make this campaign a success?
"Make people curious about Heijmans by sharing the campaign photos and links in your own network and by liking Heijmans messages on Instagram and LinkedIn. That spreads the word to a wider public. I also like to talk about my work, for instance with old fellow students, to make people enthusiastic about Heijmans."