Now that its surroundings have changed into a sandy plain, the pearl of Vlaardingen shines even brighter in the spring sun. In four years' time, the former Shell canteen will be Park Vijfsluizen's central meeting spot. A residential area with high-speed connections to the city and beach, and at the same time a lush park full of local flora and fauna. For Lonneke Zuijdwijk, director of real estate at Heijmans, the challenging environment offers plenty of opportunities for the future. Paying attention to the qualities of the place, she is planning to capitalise on these opportunities in collaboration with new partners.
1.

How do you turn this challenging place into a healthy living environment?
"What is unique about this place is the connection to different types of infrastructure. The metro will quickly take you to both the city and the beach, it is easily accessible by car, and a walk or bicycle ride through a little tunnel will get you to the adjacent neighbourhood in no time. You could even get onto a boat in the harbour! Those connections are a blessing to an area development, but also create substantial challenges with regards to noise pollution and air quality.
In order to dampen sound, we are creating a green wall, installing sound barriers where necessary and are realising a wall of tall townhouses. The homes have been designed in such a way that the living quarters are located on the low-noise side. As these houses are clearly visible for the rest of Vlaardingen, they instantly form the link with the city. After all, Vijfsluizen is the entrance to Vlaardingen. From the metro you will see a nine-level apartment building. The province of South Holland and the municipality of Vlaardingen are aiming to densify the area around public transport hubs, while making use of the existing infrastructure.
In the shelter of this higher building, residents will find a green public space full of biodiversity. And the green wall, which we raise to about twelve metres, will also contribute to the park quality we are aiming to realise in Vijfsluizen."
2.

Living in a park, what does that look like?
"Right from the start, strengthening nature is a starting point in this area development. You are not sacrificing nature, but actually improving it. After all, we are not building homes in a green environment here, but are creating a park where you can live. From the beginning, our landscaping architect and ecologist were sitting at the table with us, looking at all the aspects and phases in this project.
Vijfsluizen will consist of five different subareas, each with its own vegetation and accompanying animal species. We looked at which trees and plants attract and are home to specific birds and insects, what do those biotopes look like? And how do we plant trees in such a way that they grow well and provide sufficient coolness during hot summers? We also took stock of existing trees: about ninety of them will remain, some have been moved within the area.
While preparing the site for construction, which subcontractors are currently working on for us, we take the groundwater level into account. Tree roots cannot dry out. We must constantly safeguard the right water balance: if we dampen a pool, it has to recur somewhere else in Vijfsluizen.
If you live in a park, animals are your neighbours. So, where possible, we are fitting homes with green facades and nesting sites for birds and bats. They are currently finding temporary shelter in bat poles. We establish the conditions for the greenest possible environment and encourage residents to take it from there. It would be nice if residents would not pave the ground around their homes too much and would opt for green boundaries. We want to make them aware of how this could contribute to a healthy neighbourhood and enthuse them with our knowledge."
3.

Since when has a developer become an ecologist?
"Building with nature is part of our job. I believe that we cannot solve all the challenges and tasks coming at us, in a changing climate with the accompanying sustainability measures, by ourselves. We have to do it together. Not with other builders, but with organisations such as Naturalis, NLGreenlabel and the RIVM. Together with them, we are creating a solid base for our approach and are advancing knowledge in Park Vijfsluizen.
For instance, we are in talks with the Biodiversity Center of the Naturalis museum in Leiden on a study within our area development. For example, effort is a baseline measurement, so we can monitor the impact of our actions. Do they have the intended effect and if not, what must we do in order to achieve it? That is what you want to know and I would like to widely share those lessons, and put them to use in other projects.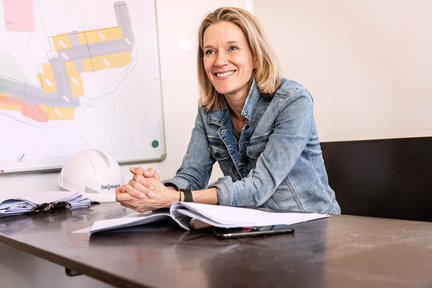 Here, we really take a different look at area development than before. This is essential, because if you want to create a healthy living environment, you need the power of various teams. Not all the same, but people who differ in expertise, background, age, in vision. I feel that putting together those teams is my responsibility. I look for people who can connect and listen, listen very well. Who pay attention and time to look at different views. We need that more than before: it is only in a safe atmosphere that everyone will be able to provide their input."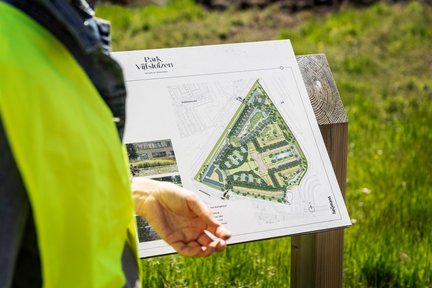 4.

Heijmans has a great deal of experience with transformations. What role will the former Shell canteen play?
"That of central meeting spot for residents. This area means a lot to Vlaardingen and the canteen is an icon. Due to the corona pandemic, entrepreneurs in the hospitality industry were hesitant about getting on board, that is why we are very happy with the definitive owner: a provider of care apartments. The wings of the Shell building will be home to senior citizens in need of care. In the centre of the building you will find communal facilities for the whole of Vijfsluizen, like a coffee corner with a terrace, but also physiotherapy and other services. That is where residents will see each other, so there will be plenty of interaction in the neighbourhood."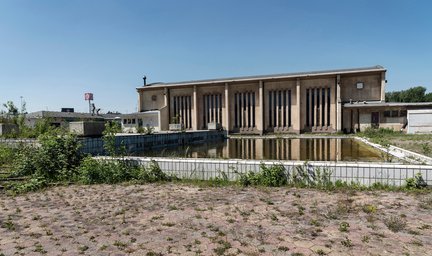 5.

What do you want to leave behind in Vijfsluizen?
"I hope this will become a diversified little neighbourhood which residents are proud of and that they will love the green space around them. Personally, I am really honoured to be able to contribute a piece of history to this place. Recently, archaeologists found a farm here and a practically intact dyke from the Iron Age, it was beautiful to see. On top of that, lay clay resulting from a flood and on top of that the Shell race track. And now we are adding a new time layer.
I would like to take the future residents along in the history of Vijfsluizen. It would be nice if we could do that through culture, for instance by having an artist create a physical translation of the history, present time and future, somewhere in this area. And by doing so, creating an additional connection with the city of Vlaardingen.
I am very curious to see what will be here in four years' time, what we, as Heijmans, will have learned and how we can develop that further. For me Park Vijfsluizen is a symbol of what I want to realise at Heijmans: to create project teams with different disciplines; besides building homes, to pay attention to all the issues coming at us and thus to realise a healthy living environment, one that is equipped for what the future will bring."