The Piekstraat residential tower block brings more than a bit of vibrancy to a unique part of Rotterdam. Located on the water at the tip of 'The Island of Feijenoord', residents will soon be enjoying the beautiful view of the river Maas, not to mention the skyline. The area is known for its old factories, warehouses and cranes, which served as inspiration for the design. 'A real hidden gem!'
Piekstraat is located on 'The Island of Feijenoord', an area in Rotterdam-South that has yet to be discovered even by born-and-bred Rotterdammers. It is perhaps the coolest place in town, surrounded by water and industry. At the head of Piekstraat, Heijmans is building the residential tower block of the same name. It will be over 70 metres high and will offer 142 loft apartments of all shapes and sizes.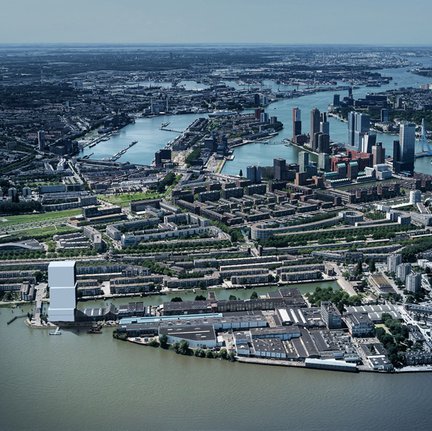 If you pick up the map, you will see how surprisingly close Piekstraat is to the city centre. It's just a ten-minute cycle ride to the Binnenrotte, Rotterdam's 'central spot'. You can get to Katendrecht, that other peninsula with all its restaurants and terraces, in even less time. The ferry, which you can also take your bike on, sails three times an hour from Piekstraat to Kralingen.
The architecture of the tower is a seamless fit with its surroundings, thanks to its industrial and robust look. The four stacked volumes are a clear reference to the stacked containers in the harbour. The materials used also refer to the old factories surrounding the block: from brick masonry in the lower layers to more steel and glass the higher you go.
The loft apartments in De Piekstraat all come with unique features. A terrace by the water, a boat on your doorstep, a home studio, your car in your home, a monumental six-metre high bookcase: whatever your dream, the chances are you can make it come true here.
District heating, a heat recovery system and solar panels on the roof provide 100% renewable energy. Triple glazing, CO2-controlled ventilation, plus underfloor heating and cooling make sure the indoor climate is perfect with minimal energy consumption. The Piekstraat does a few more things to encourage a sustainable lifestyle: the garage is ready for 100% electric car use, plus you'll find electric shared cars and bikes and enough space to park 500 bikes.