Immediately behind the dunes in Noordwijk aan Zee is Duineveld, a high-end residential project by Heijmans. The streets and houses in this residential area exude the easy feeling of seaside living, dominated by a feeling of comfortable living and luxury. The lush appearance of the detached and semi-detached villas, townhouses and apartments is reminiscent of beautiful beach houses in famous seaside resorts like The Hamptons, but with their own Noordwijk seaside architecture: high-end finishes with light tints, verandas and bay windows and rich detailing.
The Duineveld residential area is situated immediately behind the dunes and close to the Noordwijk aan Zee beach. Residents can find all the facilities they need in the immediate vicinity. The boulevard and shopping centre of Noordwijk aan Zee are within walking distance. Facilities such as a swimming pool, schools and sports clubs are also in the immediate vicinity of Duineveld. This combination makes this special location a pleasant, relaxed place to live.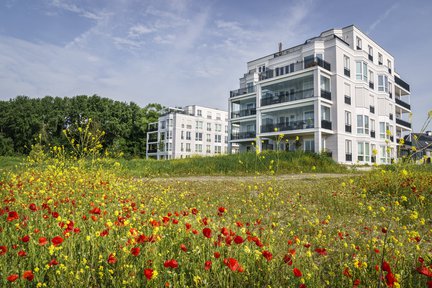 In Duineveld, you get that comfortable seaside living feeling of being on a permanent beach holiday. This sense of place is reflected in the bay windows, verandas and light shades used for the homes. The exclusive New York seaside resort The Hamptons served as a major source of inspiration for this special style and atmosphere. Combining this with Noordwijk seaside architecture, Heijmans is creating beautiful homes in a relaxed neighbourhood with one clear signature, plenty of open space and greenery with hedges.
Duineveld is marked by the wide range of choice for residents to design their homes according to their own wishes via the project architect. They can choose from a wide range of different dwelling types and complete option packages, such as Comfort, Deluxe and Supreme. For those looking for more individuality, Heijmans offers additional options, from a French balcony to a rear extension, a roof terrace or a veranda.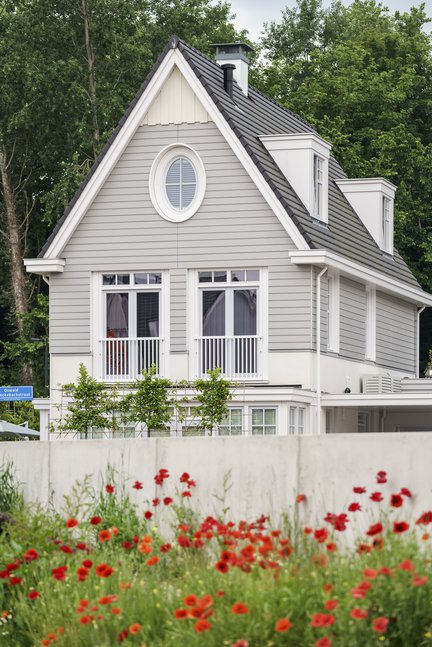 Residents also have the freedom to have the interior of their homes designed to their own liking with the help of an interior designer. With plenty of extras, such as a workroom or playroom, extra spacious dining kitchen, master bedroom with walk-in closet and en suite bathroom. Even turn-key delivery of the home is an option.
Living in Duineveld is a conscious choice. Like-minded people who value comfort and luxury will find their dream home here. Families, many with children, in a beautiful villa or town house and slightly older people in a luxurious and comfortable flat. What do they generally have in common? Relaxed and comfortable living by the sea, and the seaside living philosophy.