Utrecht wants to be a city where everyone can live a healthy urban life. What does the constructions industry need in order to lend a helping hand? Colleague Michiel Jongmans and architects Bert Dirrix and Arie van der Neut show us their approach at residential complexes Greenville and Vestibule in Leidsche Rijn Centre.
In a while,  there will be apple trees blooming and ornamental grass waving. Now it's nothing more than a huge pile of sand. Excavating machines are parked criss-cross on top of it. It's this pile that is keeping neighbours from the opposite farm and art studio De Vrijstaat from catching a glimpse of residential project Greenville. They are curious about it though: who is going to be living there?
"People who love being surrounded by nature and liveliness", is what Heijmans' commercial regional manager Michiel Jongmans believes. In roughly one year, the farm will overlook a green oasis: An East facing stepped building with 123 homes, covered with trees and plants, with a park right out front. "The green areas of both places will gradually blend together."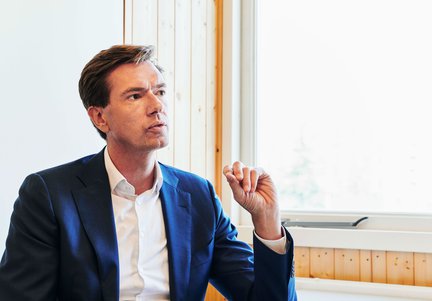 Contribution
And it's all happening right beside a shopping centre and nearby a train station: Greenville is arising in one of the last open spots in the South of Leidsche Rijn Centre. This new part of Utrecht is the largest new-build location in the Netherlands: up to 2025, 33,000 homes will be built here to house approximately 100,000 people.
Heijmans' contribution consists of two projects. Besides Greenville, Michiel and his colleagues also won the contract to develop the plot across from Greenville: Vestibule. This complex of 48 city lofts, apartments and penthouses will welcome its residents in two years' time. Heijmans won the contract as its plan shows 'architectural quality and a high level of sustainability'.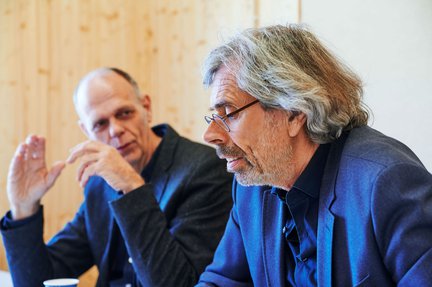 Meeting and green are the starting points for both projects, the three of them explain. Arie van der Neut opens the tender book to outline his design: "Vestibule is one of three apartment complexes along the future Park Leeuwesteyn and along the Madridstraat. On one side, residents will overlook the green area, and on the other side the street dynamics.
As we wanted to create a link to that dynamic environment and avoid a so-called 'dead plinth', we designed a glass porch, i.e. vestibule as a central entrance. Full of plants, so you will see a green wall from the street. Everyone enters the building through the vestibule, before they head to their homes. It's a place where people meet, full of activity, where things happen."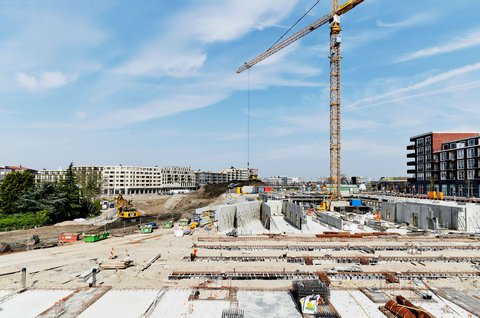 A green wreath
The design is also characterised by lush vegetation. "Vestibule is, so to speak, surrounded by a green wreath", says Arie. "To begin with, every home and private outdoor area looks out onto trees or plants. And every resident can sense the presence of Park Leeuwesteyn and Hof Monaco with farm De Vrijstaat."
According to Arie, greenery on top of and around the building also helps to buffer noise, fine dust and high temperatures during the summer. "Furthermore, vegetated soil delays the speed at which water infiltrates the ground, and thus prevents peak loads in the sewerage system." Nature close to your home adds quality, a green environment makes you feel better."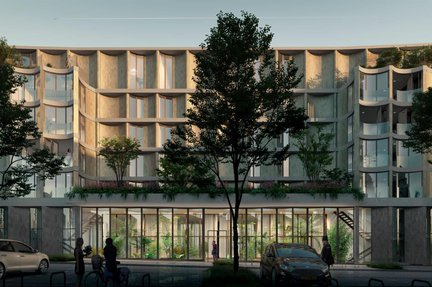 As a commercial regional manager, Michel fully understands the challenges the fourth city of the Netherlands is facing. "It is the fastest growing city in our country. To handle that growth the right way, Utrecht developed a vision on healthy urban living. Utrecht wants to be a city where it is natural to meet one and other, with green, quality and sustainability as basic standards."
Michiel is not surprised by this sky-high ambition. "You wouldn't do it for anything less, would you? Heijmans adds buildings and such to the environment that might be there for a hundred years. A big responsibility, but at the same time also a beautiful job. I'm proud of the excellent sustainability performances combined with the super high-end architecture. Sustainability and quality go hand in hand here."
Adding value
The focus is also on sustainable (shared) mobility. Arie: "An electric car sharing scheme for all residents discourages them to get a second car at best. Creating a healthy city is hard if every resident has one or two cars. And what I find very sustainable is the flexibility of Vestibule: your home is prepared for when you become older and are not as fit anymore, but still want to stay here. There will be no need for a drastic renovation, because accessibility of facilities has already been incorporated into the design."
Bert outlines how the Greenville design anticipates the desire for healthy urban living: "On this spot, which is actually a little square on the map, we opened the place up: this is a terraced, half open building instead of a massive block and the gardens have entered the apartment complex. This way, we create an open, green environment, right in the middle of the urban Leidsche Rijn Centre.
We have banished shadow wherever possible. All homes overlook the park and green inner courtyards, as well as the surrounding buildings of both the shopping centre and the farm across from here. And it is in the green areas that you meet one and other, in the communal courtyards, adjacent to the private outdoor areas. The Flux agency adds ecological value to all of this: insects, birds, butterflies and small animals get their own habitat in Greenville."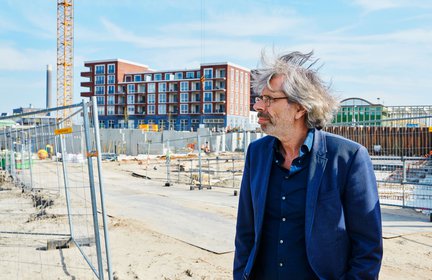 Larger scale

In what way could the municipality of Utrecht improve the way it works with designers and builders? Michiel envisions this as follows: "The larger part of Leidsche Rijn is developed per plot, each time a small part is sold. As a result, all the ambitions for a healthy living environment are stacked on one plot, everything comes down to one building.
If you request health improving construction per plot, our resources will be limited. You will achieve so much more if you can work on a larger scale." He also points out the issue of sustainable energy: currently, this has to be generated in a small area, while working on a larger scale would provide both more and smarter options.
Arie nods: "For instance, they are now building an underground parking garage for each building block is, instead of a modular parking garage for a larger area. One that can be moved in case the number of required parking spaces decreases. Or a building that can be transformed so it has a different function, now that is really futureproof."
Formal vs informal
Michiel, Bert and Arie are noticing that area development is much more organic nowadays. "More informal and loose", according to Bert. "Building a city the way Leidsche Rijn was built, in such a top down and formal manner, doesn't happen anymore. A really healthy and sustainable city is one that was built by the community. Where people feel they own their living environment, and leave their own stamp on it. Where they choose the greenery themselves, and maintain and manage it."
Arie: "I agree! You can compare formal and informal to marching music and jazz: Jazz offers room to improvise, while marching music is made up of fixed rhythms. Leave some space open, don't fill in all the empty spots in advance. This is what is needed to create healthy neighbourhoods. It's not possible to create a vegetable garden in Leidsche Rijn. Each piece of land has already been zoned for a certain purpose. Therefore, it would be smart to leave some room for things to come, even if you don't know what that will be yet. It's just impossible to predict what people want later on. The pace of change continues to increase. The challenges we face now, are totally different than the ones we faced when I started off as an architect."
Bert: "That is why I love working with whatever is already there. Don't demolish too much, but try and see what you can transform. That is also sustainable. As an architect you assemble everything that makes a city interesting, so all different kinds of people can live there."
According to Bert this requires the industry to be flexible: "Respond to whatever is already there and see how you can add functions. Listen closely to the stories of residents and neighbourhoods in order to help figure out what the next chapter could be." Michiel: "And by knowing what future buyers or tenants wish for and by responding to that in the right manner and place. That's what we do."
Room to dance
The three of them indicate that they can do an even better job if the local government would state exactly what they believe a healthy living environment entails – for instance a standard for biodiversity or for sustainability. Arie: "State exactly what you need and if you ask for quality, make sure you reward the builder if he provides it. At the moment, ambitions are sky high and contracts still end up being awarded to whoever offers the lowest price."
Michiel adds that a detailed request challenges him to come up with a better solution, to think outside of the box. With the side note that "there will still be a need to room to move around, and there shouldn't be too many rules."
Time is up. Arie, Bert and Michiel head for their cars, which they parked at De Vrijstaat farm. The new residents of Greenville and Vestibule will find it to be an interesting new neighbour. "What a beautiful historic place right in the centre of this new area", Arie and Bert agree with smiling faces. "This is exactly what we mean with informality. A monument like that in a place like this, gives the area its identity and is something that must be preserved. An unexpected contribution to this place increases its quality."