The love child of CSU and Heijmans, Beyond Eyes, is growing up. From the measurement of occupancy and cleaning on the basis of sensors, the platform has developed into a digital facilitator for collaboration. So, high time for a bigger family. "By linking even more data and services, suppliers can now increase their efficiency and collaborate to realise the optimal working environment." This calls for balanced and smoothly running collaboration. As the 'parents' of Beyond Eyes, Esmée Ficheroux from CSU and Ton Fleuren from Heijmans talk about how they plan to make this happen.
A cleaning company and a construction firm: how did they find each other? Ton Fleuren, Business Development director at Heijmans, kicks off the interview. "Lots of good ideas begin with astonishment. Beyond Eyes began with our astonishment at the cleaning in our offices. I saw the cleaner enter a room that I knew nobody had been in since the previous day. After she'd looked in the bin, she came to the same conclusion and moved on to the next room. And that hadn't been used either."
Through his contacts, Ton was able to share his astonishment with the Management Board of cleaning company CSU, who were quite keen to see whether they could work more smartly. The result: the launch of BeSense in 2016. "Working together, we developed special sensors that registered the amount of movement in a space, which made it possible to adjust the cleaning to how it was being used", Ton says.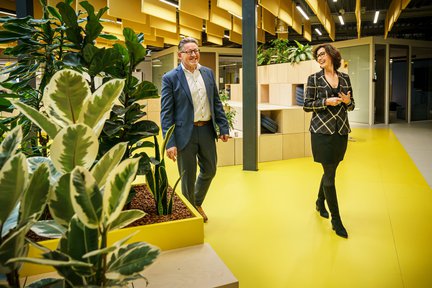 Users are the key
"Later on, we realised that the main driver shouldn't be technology, but users", Ton adds. "In other words, everyone who uses a building for their work. That can be a cleaner or office worker, a facility manager or a real estate director: they all have to be able to do their work as efficiently as possible." Esmée Ficheroux, a member of the CSU Management Board, found the initial period of pioneering and experimenting with Heijmans "a wonderful time!" But she found the dependence on sensors a bit limiting. "We dared to say: no matter how great the technology is, we have to do this differently."
Chain collaboration
And this led to the birth of Beyond Eyes: a range of services on a single digital platform that facilitates chain collaboration in a building. "Traditionally, you sign contracts with different suppliers for all kinds of services", Esmée says. "All of these parties work in the same building in their own silos, and optimise their own little island. This system can never be as optimal as when all those parties collaborate to look at what is best for their client, each from the perspective of their own service. All with the same goal: a satisfied user. Beyond Eyes enables us to build coalitions within our client's building."
Because users are not looking for a number of different applications for different services, Ton adds. "What they want is a single environment where they can arrange everything. This can be anything from reserving a workstation or a parking space to signing in visitors or reporting spilt coffee."
More time for other tasks
"We can link virtually anything to the Beyond Eyes platform, including existing sensors. This includes the likes of smart soap dispensers and coffee machines that send cleaning staff a signal when they need refilling. Our colleagues go everywhere and take in a lot as they move through a building", Esmée notes. At the same time, Beyond Eyes makes their work more engaging and reduces the workload. "You no longer have to check every room. Your tablet tells you where you need to go and you use a 'smiley' to indicate whether a room was more or less dirty than expected."
That interaction makes the platform smarter and smarter, making it easier to predict which rooms or spaces need cleaning. "That frees up time for other tasks", Esmée says. "Such as welcoming visitors or watering plants." Or filing reports of broken lights or loose door handles, which are automatically sent to the person who can fix them. "This makes cleaning staff the real eyes and ears of a building and changes their status. It gives them real responsibility for the working environment." The connection and analysis of all the available data also provides new insights, which CSU uses to advise its clients.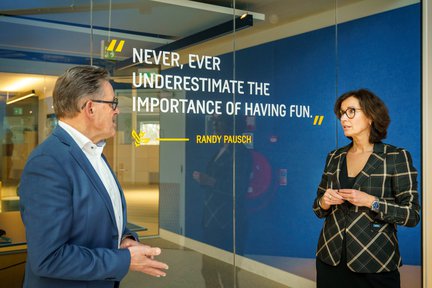 Adjusting services to occupancy
Cleaning – under the BE Clean brand - is just one facet of Beyond Eyes. "Actually, the basis is BE Equipped", Ton says. "The measurement and analysis of your building's use. Can you use this to identify certain trends? Which meeting rooms are used the most and what workstations do people prefer to use? You can link up more and more data to that, such as temperatures, noise levels, or particulate and CO2 levels. But also the energy use of a building, via the BE Energized service.
"And again, this is about more than just measurements; it's more about the interpretation of the data you gather", Ton says. "What is the optimal lay-out for the building? By linking various data, you can ultimately reduce costs and, in terms of energy use, comply with regulatory requirements and contribute to climate targets."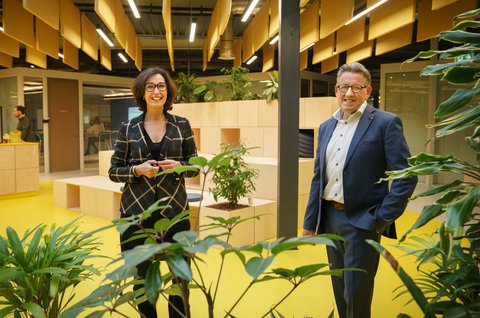 New family members
"If all the services in a building are connected to each other, it's no longer necessary for each supplier to reinvent the wheel. Because you're all working together to achieve the same goal: a healthy, safe and sustainable working and living environment for your client." To make the range of services more complete, Esmée and Ton are thinking about healthy catering and waste management. "This is why Beyond Eyes is looking for new family members. That's how we refer to it anyway, as the father and mother of this project", Ton jokes. "This family really wants to do this collaboratively, and we want to like our new family members, as companies and as people."
"You don't often dig very deep with scratch partners. We were looking for intimacy, which is why we decided to team up. What we find important in our partnership are things like trust, vulnerability and being honest enough to admit when you don't know something", Esmée adds.
Focus on their own business
"Beyond Eyes is not about technology", Ton says. "What it's really about is optimising collaboration, so our clients can focus fully on their own business. Right now, we are still generally just responding to issues. The dispensers are empty, so we fill them. Thanks to all the data in our platform, we can prevent this. At some point, we will say: 'I'll replace the bulb now, because it will be broken in five minutes.' At that point, you're no longer just a supplier; you're a partner who frees up the client to focus on their own business. Yes, this requires technology, but purely to support the process and the people."