With its bow into the wind, the Heijmans 01 work boat of foreman Jouk Vos and work planner Sam Pestoor skims past a fully loaded barge. This waterway is where Heijmans carries out management and maintenance work for the Ministry of Public Works and Waterways (Rijkswaterstaat). Heijmans does this work in collaboration with Swarco.
Jouk Vos pulls back the throttle slightly. The nose of the bright yellow boat sinks into the water. Jouk deftly steers the vessel through the lock in the Prinses Margrietkanaal near the Frisian village of Terherne. The lock lies between Lake Sneekermeer and Lake Terhornstermeer. The complex is part of the main Lemmer-Delfzijl waterway. It crosses thirteen municipalities and three water boards in the provinces of Friesland and Groningen via three connected canals: the Prinses Margrietkanaal, the Van Starkenborghkanaal and the Eemskanaal. Along this route, the construction consortium manages and maintains several objects.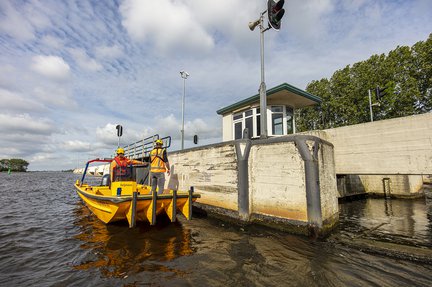 Jouk: "We maintain over 118 kilometres of canal with 32 movable bridges, 11 locks, six mooring facilities and several control buildings. Everything has to function 24/7 to ensure smooth and safe passage for vessels. In addition, Heijmans Asset management is responsible for the emergency service."
Every day is different
Sam and Jouk's club consists of 12 people. Sam: "We work in combination with Swarco. Heijmans does the civil works and Swarco is responsible for any electrical engineering work. Together we tackle mechanical engineering work. Various, mostly local, subcontractors help us with the execution."
Really enjoyable
The area Jouk controls with his team runs from Lemmer to Delfzijl. The foreman, who lives in Staphorst in the province of Overijssel, travels quite a few kilometres every day. "Every day is different. Sometimes I drive from home to Groningen and a day later I get in the car to Friesland for a job."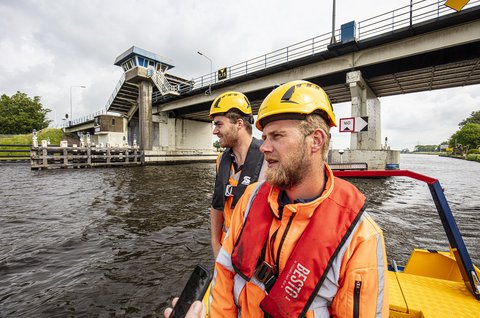 The variety and unpredictability is what makes the work so enjoyable, adds Sam Pestoor. "One day you're greasing the gears of a movable bridge and a week later you're pouring a load of rock into the water." Jouk and Sam's team are also deployed for smaller calamities. Jouk: "You see all kinds of things here. From a tractor that has driven into the water to recovering cadavers that have fallen into the waterway. The work is really enjoyable, especially when the weather is nice. You're outside all day. On really cold days, we wear the heavy-duty overalls they also use on offshore platforms."
Divers
Skippers themselves report any collisions to Rijkswaterstaat's reporting centre. Rijkswaterstaat then calls us and we have to be on site within 45 minutes. We can do this by bus, boat or car. Even at night and on Sundays. Sometimes you're called out of bed. The other day, a bridge wouldn't go down, which results in a 'dry' blockage. We then arrange road closures and diversions. Objects that cause jams between lock gates are also common. These are the jobs we hire divers for."
Heavily damaged
There are also large-scale calamities, says Sam: "Two years ago, the lock we are sailing through right now was badly damaged by a collision, and last year a ship crashed into the Gerrit Krolbrug bridge in Groningen. The bridge was so badly damaged that it had to be closed to motorists. We towed away the bridge deck and are now investigating whether a repair is possible.
The pedestrian and bicycle section is still open for use. Hopefully, cars will be able to use the bridge to cross the Starkenborgh Canal again early next year."
50 km/h per hour
Periodically, the team carries out scouring work. Previously, they did this with a car or work van. But checking the objects from the shore proved difficult. Renting a boat was the solution. Since Heijmans is now getting more and involved in the management and maintenance of wet infrastructure, the company decided to buy its own work boat. This turned out to be an aluminium version weighing just 650 kilogrammes, driven by a 100 hp outboard motor.
Jouk designed much of the boat himself. "The top speed is about 50 kilometres per hour, but we are only allowed to go fast in emergencies. An electric drive is not an option right now. The range and speed of an electric motor are just not sufficient for our work at the moment. We are keeping an eye on developments in this field though, so we could see our workboat converted to one with electric propulsion at some point." Jouk has thought about even the smallest details. For instance, the throttle lever is on the steering console. "This prevents you from hitting the lever accidentally. Safety above all."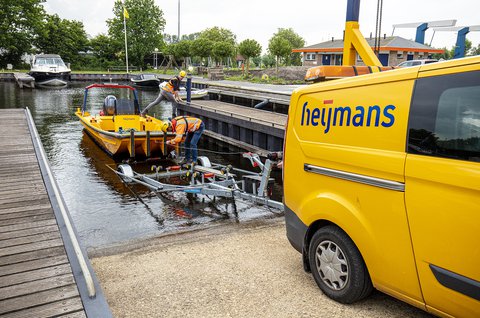 Trailer for flexibility
Jouk uses the boat for inspections, calamities, laying buoys, ferrying people and small jobs, such as cleaning a lock gate. "There are places to put the boat in the water from a trailer at several places in our working area, so we're very flexible and efficient."
Besides emergencies and various maintenance tasks, the work boat is also used for additional activities. Two jobs on the current schedule are replacing the old wooden braking mechanisms and the installation of stop poles at moveable bridges. Jouk: "Vessels are much larger than they used to be. The waterway was originally built for ships up to 80 metres long, but now we have ships of 140 metres sailing here. A collision can cause major damage to the bridge, which is why we're going to install sturdy stop posts in front of the middle pillar, which will cushion the blow in the event of a collision."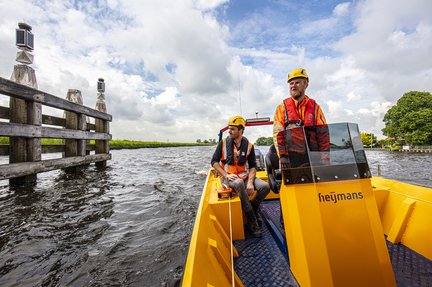 Fully operational
Many bridges and locks from the 1950s and 1960s are at the end of their lifespan. So Sam expects the number of wet maintenance works across the Netherlands to grow in the coming years. Sam: "Here, we are showing that we can keep the waterways between Lemmer and Delfzijl fully operational with minimal inconvenience to the surrounding area, road users and shipping."