How do you build high-quality homes that are smarter and safer, and how do you do it in a sustainable way? Colleagues Ramon van Zijderveld and Dennis Kuijt are designing a new generation of homes using timber as the supporting structure. "This is a logical step if you want to keep building in the future," says Ramon.
"If we want to keep the earth liveable, as a construction company we really need to accelerate the sustainability of our operations. At the same time, you want to provide a solution to the huge shortage of affordable housing. How do you do that when fewer and fewer skilled workers are available and you want to continue to build safely? All these factors added up to the development of the latest generation of homes, with a timber shell, and produced in our own factory in Heerenveen."
Ramon van Zijderveld, director of business development at the residential building business unit, and Dennis Kuijt, industrialisation design manager, talk about the innovation process they are working on. They have found the right partners, made a number of decisions and gained experience in the first projects. Ramon and Dennis take us through the steps they are taking towards timber-frame houses produced on an industrial scale.
Step 1 Conceptual building
"To build houses quickly and efficiently, we want to standardise the interior as much as possible on the technical side, while still being able to vary the exterior as much as possible," Ramon explains. "This is called conceptual building and we have been doing it as Heijmans for a long time. We use the same building elements for different types of houses. This enables us to can deliver tailor-made solutions for all kinds of target groups and situations and yet the houses all look different. After all, you want to create varied neighbourhoods, streets with their own character."
Dennis: "For reasons of environmental impact and comfort, we are now adding sustainable building elements to our range, made of timber. And these elements are almost all made in one factory. That means we can work quickly in a weather-protected and safe environment. A great addition to the Heijmans catalogue of concept homes."
Step 2 Accelerating sustainability
Together with a team of colleagues, advisers and experts, the two explored plans to make this next step successful. Dennis: "Building with timber is far from new; it's an ancient and strong construction material, but Heijmans wants to be able to apply it carefully on a larger scale for sustainable and high-quality homes. That requires thorough research." Ramon adds: "And the power of persuasion. To innovate using sustainable building materials, you also have to dare to persevere, explore and believe it can be done. And you have to take others with you on that journey to a better world."
One practical bump, for example, is that the environmental impact of building with timber is still not well integrated into current regulations. "Timber is a renewable and circular resource because you can replant trees. That aspect scores high on certain sustainability criteria, but if you can include the CO2 that the tree stores while growing, you would score even higher." Dennis adds, "The end result counts. As Heijmans, we really want to make a big step towards sustainability. In order to bring a healthy living environment for current and future generations within reach sooner."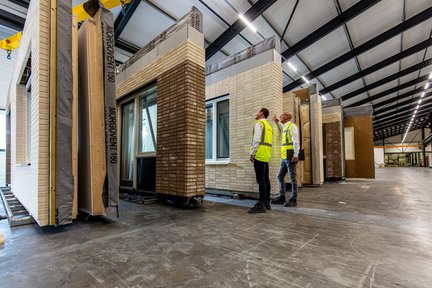 Step 3 The right partners
Heijmans cannot achieve its sustainability and innovation ambitions alone. This is why the company joins forces and combines knowledge with experts and partners, Dennis and Ramon explain. "For instance, we sought a partnership with the Dutch companies VDM and IIBO. We now have a partnership with Drogeham-based VDM, and in late 2021we acquired the IIBO factory in Heerenveen. Both companies have a lot of experience in timber-frame construction," says Ramon. "They make customised timber-frame houses for private and professional clients, and use innovative technologies. You also have large timber-frame construction factories elsewhere in Europe, but in the Netherlands, the working methods used by VDM and IIBO are the best match for what we want to make." Dennis: "Partners such as the Dutch forestry conservation organisation Staatsbosbeheer are also very important to us, for example for the supply of timber from sustainably managed forests. Together with them, we want to increase the number of sustainable and high-quality homes in the Netherlands both faster and in a smarter way."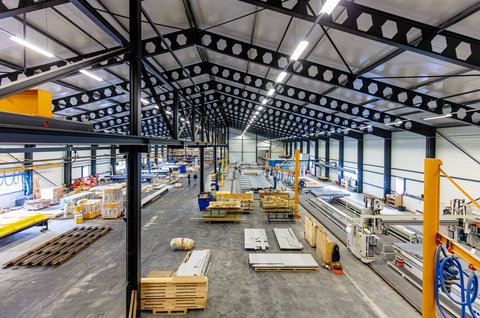 Step 4 Strength of timber-frame construction
The two are also more than willing to get specific about how these new conceptual homes are put together. A timber-frame house is a house whose supporting structure, the shell or skeleton, is made of timber elements. "Those elements are called frames," Dennis explains. "Various types of timber frames, for walls, floors and roofs, make up a house. We only use other materials if you can't do without them, such as concrete for the foundation or piles."
For these houses, Heijmans does not use CLT, or Cross Laminated Timber. "That is primarily used for stacked timber construction, such as for apartment blocks or offices," Dennis explains. "They are heavier elements that are especially useful for structural purposes. You don't need that much timber for houses. In timber frame construction, you use timber more efficiently. In our houses, we use more timber where stability and strength are called for, and less where this is not needed." This makes them half the weight of a traditional shell, says Ramon: "Can you imagine what that saves in materials, as well as in transport and lifting movements, and therefore your CO2 emissions!"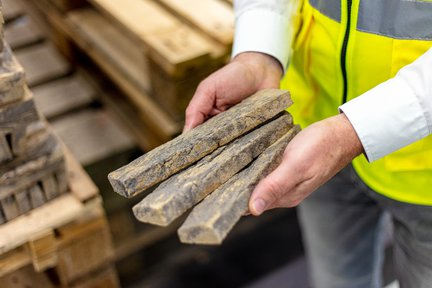 Step 5 Innovate for a healthy living environment
"Our new generation of timber-frame homes meets all the legal requirements we have in the Netherlands," says Ramon. However, he explains that Heijmans also managed to achieve an additional quality improvement: the engineering teams looked at the optimal shape for each and every element. "The timber frames consist of a rack of beams, with construction-quality OSB boards and finishing boards," Ramon explains. "We vary the frames for floors, roofs and walls to achieve the best result. For example, for the upper floors, which have to be very strong, vibration-free and low-noise, we use thicker beams and a thicker OSB board. As a result, the floor is as stable as a concrete ceiling."
Currently, the two are busy working on the next steps of this new generation of homes. Developing a new product is quite a challenge, but Ramon and Dennis are highly motivated: "By doing this, I'm helping to combat climate change. That motivates me to always think things through and tackle the challenges we face in this process," says Ramon. Dennis: "We always try to look at this from the optimistic perspective. It makes our work challenging. And I want to keep looking for an ever-better solution, whether that's in terms of materials, processes or technologies for that healthier living environment."