In 1997 the Netherlands completed the Delta Works. The five storm surge barriers, two locks and six dams brought a sense of relief. However, our pride would almost make us forget that ten thousands of bridges and other 'artworks' are nearing the end of their lifespan. Heijmans offers help.
The world mainly needs bridges, according to the famous architect Santiago Calatrava: "Because a wall separates, while a bridge connects." Not only sociologists will concur with his statement, but also infra builders. Especially in the Netherlands, where 85,000 bridges and overpasses reinforce our strong reputation in mobility and distribution power. However, river crossings do not possess eternal life.
Bart Smolders, chair of Heijmans Infra: "Most bridges date back to the sixties and seventies. They are nearing the end of their lifespan. On top of that, many civil artworks were not designed for more intense and heavier road traffic." Time for action, believes the chair: "The Netherlands wants to remain high on international lists. Fair. But in that case, you cannot afford unforeseen outages. Traffic flows are crucial."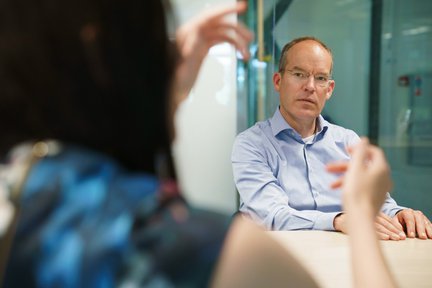 300 billion euro
With that in mind, Heijmans and twenty-five other construction companies, authorities and knowledge institutions recently published the Manifest Infra. The signatories include the province of North Holland, the municipality of Rotterdam, TNO and TU Delft. They state that renovating and replacing civil artworks should go hand in hand with innovation and scaling-up.
"We are on the brink of the new Delta Works", concludes Bart. That is no fishing tale: this is a country of ten thousands of bridges, tunnels, overpasses, locks, pumping stations, divers, quays and related objects. They have a combined asset value of no less than 300 billion euro.
Yet, a side note. "In the aftermath of this pandemic, this big task is not one of the top ten issues on the management agenda", notes Bart. Those who do feel the urgency, are the asset owners and managers. Kristel van Haaren, responsible for Strategy & Business Development at Heijmans: "We have been noting the problems for over six years now. Not only in the Netherlands, but all across Europe. At first, we together with the University of Twente and TU Delft mainly focused on structural solutions – slimmer bridgelayers etc. Now, we are taking one step before that, through digital monitoring."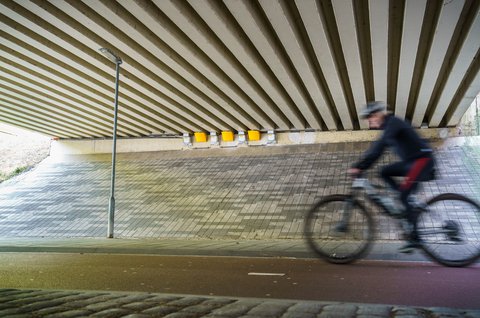 Assets
Assetlife is what this data-driven service is called, for which Heijmans developed the algorithms in-house. Kristel: "Assetlife is based on knowledge instead of assumptions. That starts with installing high-tech sensors in a bridge, overpass or another civil artwork. Night and day, those sensors collect information on use, condition and lifespan. That is reported online. If requested, we can combine that data with external records, such as meteorological information and traffic information."
There are countless advantages. Digital monitoring shows matters which the bare eye cannot see. Even before cracks indicate deterioration, Assetlife can visualise the hidden decline. Kristel sums up a number of assets: "Data are objective. They rule out human mistakes and make physical inspections practically unnecessary. Thanks to the predictive power of Assetlife you will also lower the risk of having to decommission an artwork or having to limit its availability. This way we will also limit the chance of traffic jams and unnecessary costs."
Gold
A brief explanation for those to whom digital monitoring still sounds like hocus pocus: the collected data (in other words: measurement results) do not say much by themselves. In order to connect meaningful conclusions to them, you need algorithms. Those are the 'mine workers' who know how to extract the 'gold' from the available data. Valuable info? Yes, says Kristel: "If you know the exact state of an artwork, you can also start formulating predictive scenarios. This way a manager can take well-founded decisions on life extension or replacement. Important, because an asset manager does not want any surprises. He or she wants risk management and predictability in his/her budgets."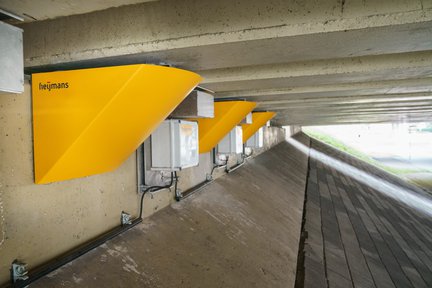 'Do as you preach', claims a very strong motto. Heijmans embraces it. After all, the company is asset manager of dozens of routes and civil artworks in the Netherlands. "We use Assetlife for instance on the A12 and the A2, says Kristel. "We are going to expand that, so we ourselves can gain more knowledge and insights."
European airports
Also Schiphol, where Heijmans is a strategic partner in long-term maintenance, is applying Assetlife. Since a year, two aircraft bridges are being monitored. "Schiphol is ahead of other European airports when it comes to this", Kristel knows. Though, Assetlife is also catching attention elsewhere: "Munich, Charles de Gaulle and Heathrow." Will Heijmans be spreading its wings in the future? An international pilot will have to show whether there are enough European airports which are interested in digital monitoring. An interesting market: their acreage includes about five hundred bridges and tunnels which are crucial for operational management.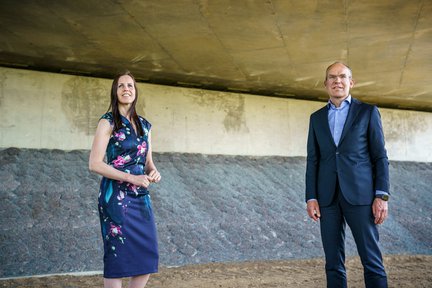 It is, of course, to be expected that also asset owners such as Rijkswaterstaat, ProRail, port companies and water boards will start developing interest in digital monitoring. "With ProRail, we already had a good first experience with regards to monitoring a railroad bridge", says Bart. Which word would he highlight with a fluorescent yellow marker? Implementation. No, not the installation of cabinets on artworks. However ingenious the underlying technique might be: it is not the holy grail. "What it is about, is the change in digital thinking and the accompanying work processes. That is the implementation. In this conservative sector that is a big challenge."
A half percent
Either way: according to Bart digital services will see an enormous growth. That fits 'smarter, sustainable, better', the three pillars within the Heijmans strategy. The aim of all these efforts: creating a healthy living environment. "We are involved in the development of, amongst others, Smart Mobility, Smart Energy Grids and Smart Facility Management. It all contributes to the so-called smart city. Still, this is only the beginning. Of all the available data on earth only a half percent is used. There is still an entire world to be won."