In a Dutch greenhouse you can cultivate cucumbers. And quality of life as well, as they're all too aware in Amersfoort. Visit a paradise that transcends the term placemaking.
Monday morning in Amersfoort's Vinex district of Vathorst. It's dry, apart from in the neighbourhood of De Bron. There the streets are named after the Black Sea, Lake Balaton, the Strait of Gibraltar or Ocean. Not an area for those afraid of water. Fortunately catering establishment-owner Daphne Bartels (49) is the type to brave the elements.
Six years ago she set sail with Heijmans. The challenge: to create a meeting space in the fledgling district. Highly desirable, thought Oscar Higler from Heijmans, who has been involved as a developer in Vathorst since as far back as 2004. 'If you're keen for residents to be able to thrive from the outset, then you need to think hard about meeting spaces in timely fashion. After all, liveliness isn't something conjured out of thin air. That starts with rousing people's curiosity. Thereby generating traffic, which can bolster esteem and fuel demand for housing. Fulfilling that demand for housing is our ultimate goal.'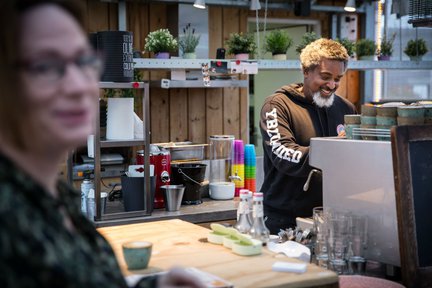 Community centre 3.0
Coincidence lent a helping hand. In 2012, Amersfoort was the 'Capital of Taste' in the Netherlands as well as the host for the GRID International Photo Biennial. We could kill two birds with one stone, Oscar realized. His wish: to create a pioneering spot in Vathorst where you could combine eating, drinking and a trade show visit with experiencing Vathorst.
'A community centre 3.0', says Daphne, who took on the challenge of running the place. 'I had 30 years' experience in the catering sector, from running my own café to managing an exclusive restaurant. But the crisis hit us hard back in 2008. I was still rescheduling debt when Heijmans offered me this opportunity. A gift from the gods - I was keen to set to work with a kitchen garden, local produce and education for children. What's more, it's my own neighbourhood. I live here.'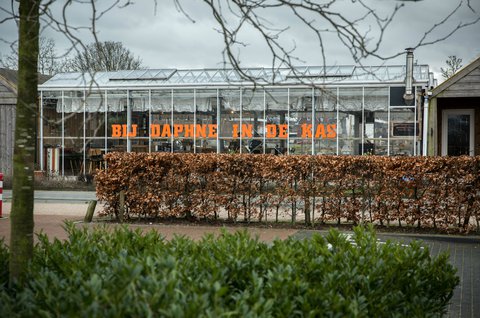 Transparent
As the daughter of a florist, she spent plenty of time in greenhouses during her childhood. Knowing this, Heijmans tasked an architect with designing a greenhouse measuring 9 x 12 metres. Its style was to be transparent, open, sturdy, honest. June 2012 saw the opening of 'Bij Daphne in de Kas' ('Daphne's Greenhouse') by the water in the Bronpark.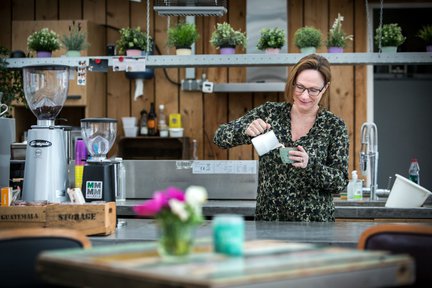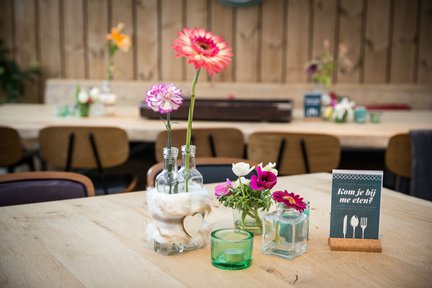 'I spent the first six months getting to know each and every guest', says Daphne, who runs the meeting space with her husband Alex. 'Now I know hundreds of people.' She welcomes 40-100 customers a day. The terrace is packed in the summer. Sunshine, drink, towel. Strictly speaking, no swimming is allowed in the adjacent Bronpark lake, but in Vathorst they're happy to look at the bigger picture.
Real
'Bij Daphne in de Kas' is an excellent example of placemaking. This term encompasses interventions in public places geared towards fostering a climate in which businesses are keen to establish themselves and people want to live. Placemaking isn't a new phenomenon. In her magnum opus The Death and Life of Great American Cities (1961), the American urban planner Jane Jacobs stressed the importance of lively public space. This breeds social networks, she maintained. Without these, the city will languish. Another one for the bedside table is the book Successful Public Spaces by Fred Kent, founder of the non-profit organization Project for Public Spaces (PPS) in New York.
Sceptics regard placemaking as social tinkering for the privileged. Inevitably there are jokes about hipsters with their hair in a bun serving quinoa beer in their pallet-wood pop-up cafés. But things are more typically Dutch in practice: low-key, accessible to all. 'It's also the case that placemaking only works when it's authentic', says Daphne. 'My chic restaurant was a performance. That wasn't Daphne. Here I'm real. The greenhouse is visible and transparent for good reason.'
After six years she feels like an entrepreneur, community worker and confessor all rolled into one. And so her dream has come true. Beaming from ear to ear, she shows a saved note on her mobile phone. On 5 June 2012 she wrote a five-word business plan: meet, create, unite, provide opportunities. 'Now that's what it's about. Another cappuccino?'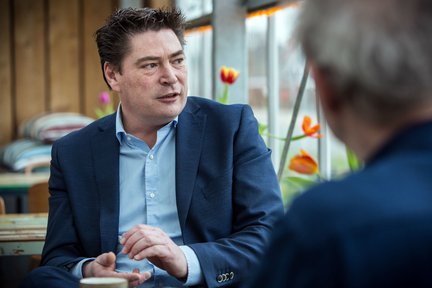 Beach
Placemaking is now a tried-and-tested concept for Heijmans. 'The theory on it has been assimilated', says Oscar. 'Though there are conditions. In addition to scale and impact, you need the right partners. Otherwise not much will come of it.' Right from the outset, ample attention has been devoted to quality of life and public space in Ontwikkelingsbedrijf Vathorst, the partnership between the local authority and five market parties.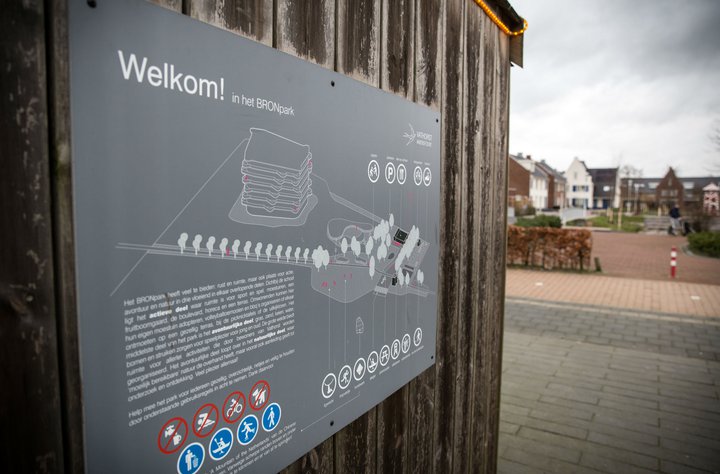 Within the compass of this, Heijmans is keen to take the lead, as evidenced by three projects: a music pavilion and a beach plus watchtower and the Bronpark lake, which had not yet been constructed back then. Oscar points to the water, which now contains two eye-catching works from the art programme: 'Boot' ('Boat') by Armando and 'A Mountain for the Netherlands' by the Chinese artist Sui Jianguo. 'Now and then we'll get a flock of Chinese tourists passing by', laughs Daphne. 'Still, it brings in a few more customers.'
Children
An extra attraction of the placemaking in Vathorst is the attention given to young people. In the kitchen garden, where lettuce, beans and red fruits are grown, children are often to be seen eating raspberries and strawberries. Pick your own, eat your own. Even the 16 to 18-year-olds working for Daphne are locals. 'I'm not quite like a mother or an aunt to them. But they're still my greenhouse kids. When they fly the nest I'm always hoping that they'll show up here on their first date. This is a safe place.'
Things are going well with Vathorst, Daphne and Oscar acknowledge. Oscar: 'In Amsterdam we don't have to hand out any flyers saying "For sale in Vathorst". Around 30% of the residents ultimately move house within Vathorst.' Which isn't particularly strange, states Oscar: the three subdistricts – De Bron, De Laak and De Velden – form 'A world of difference', which is also Vathorst's credo. 'This makes investing in the area even more appealing.
What might the next project be? From 2000 onwards, residents of De Laak were able to purchase a construction kit for a De Laak sloop at a heavily discounted price. There was plenty of interest in these. What's missing is a winter and maintenance shed, which would draw in some new residents.'
Rollator
Neither has Daphne's enthusiasm for construction waned. 'We're keen to keep growing with the turnover. The permit, which was valid for five years, has been extended. We're now looking with Ontwikkelingsbedrijf Vathorst at whether we can get more permanent accommodation. I never want to leave this place, even when I need a rollator to get me here.'