As one of the largest airports in Europe, around 52 million passengers and 1.5 million tons of freight came through Schiphol in 2013. Schiphol offers travellers, visitors, employees and employers all of the facilities and services they need 24/7. As their main contractor, Heijmans helps the organisation to realise this ambition, by ensuring the infrastructure and facilities remain available.
Heijmans is developing into an asset manager: not just an operations contractor, but collaborating on advice, design and maintenance strategy. A shared responsibility for control and maintenance allowing Schiphol to concentrate on direction and strategy, while Heijmans takes charge of the day to day worries.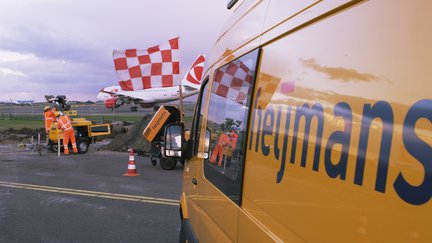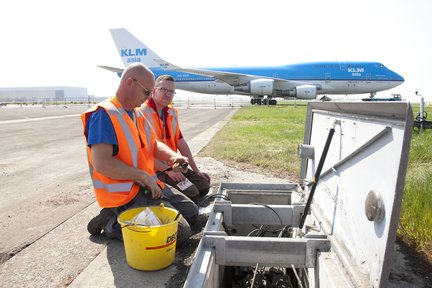 Heijmans is responsible for maintenance, new builds and rebuilds in 3 crucial parts. 'Flight Dispatch': maintenance and construction of take-off, landing and other runways. 'Accessibility': the infrastructure in public access areas. And 'Transport of Electricity': the network of energy transport and distribution.
3.

Constantly in Operation; 24/7
The airport operates continuously. That is why the infrastructure maintenance and control are so intelligently organised that transport of aircrafts, goods and people can always continue. The greatest compliment is in fact when travellers and visitors are totally unaware of our work.
The safety of travellers, visitors and personnel is the number 1 priority. That requires strict procedures and careful preparation: from 100% control of people and goods to special supervision when working airside. But it also demands flexibility: the (flight) traffic and weather conditions can result in the complete planning being scrapped at the last minute.
5.

Integral from bicycle path to landing strip
The work at Schiphol is extremely varied: from a light or part of a bicycle path to a take-off and landing strip or a complete public transport hub with an energy neutral casing. All of the disciplines involved work together on a suitable total solution for every requirement. Working from a central vision, a consistent approach and a clear point of contact for Schiphol.