A better flow and accessibility of the northern part of the Randstad region: that is the aim of the A9 expansion between junctions Holendrecht and Diemen (Gaasperdammerweg). Works on the A9 form part of the road expansion Schiphol-Amsterdam-Almere (SAA).
On behalf of the Directorate-General of Public Works and Water Management (Rijkswaterstaat), IXAS is carrying out the A9 Gaasperdammerweg project. IXAS is a joint venture between Ballast Nedam, Fluor, Heijmans and 3i, formed for the A9 Gaasperdammerweg project. It concerns a DBFM contract.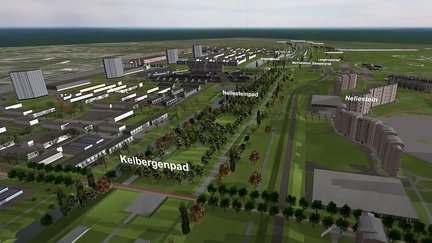 After realization of the road expansion, the consortium will be responsible for the management and maintenance for the next 20 years. The park will be handed over to the municipality of Amsterdam immediately upon completion.
Disruption to the environment will be kept to a minimum. In the Kantershof district, the construction of a new noise barrier is scheduled to take place at an early stage, for example. In addition, a significant amount of sand will be transported by ship over the river Gaasp, which means there will be approximately 75,000 fewer journeys on public roads.
The A9 will be widened to 5 lanes in each direction and there will be an alternating lane. Approximately 3 kilometres of the A9 will run through a so-called land tunnel. Consequently, the air will be cleaner in the residential areas near the tunnel and the noise reduced. Construction of the alternating lane will start in August so that part of the traffic can be diverted to this lane during construction.
A park will be built on the roof of the tunnel, which will connect the various districts in Amsterdam Southeast. The park will be twice the size of the Vondel Park and will therefore be the largest park in Amsterdam. The park will provide ample room to play and relax.