Heijmans and project developer AM have joined forces in the Feyenoord City development consortium, which aims to develop and realise homes and commercial and social amenities in Rotterdam South. This collaboration is a significant step towards the integrated development of the area.
The Heijmans-AM consortium will be working closely with Stigam (Stichting Gebiedsontwikkeling aan de Maas – the foundation set up to oversee the area development). Stigam is responsible for the land development. The Rotterdam South area development entered a new phase following the Rotterdam city council's adoption of the zoning plan in late 2020. Feyenoord City will include the new stadium that will be developed by Stadion Feijenoord N.V. Around this new stadium, the Heijmans-AM consortium will develop an attractive city district that will include homes, a hotel, food & beverage outlets and shops. The Feyenoord City Masterplan gives the room to develop a total of around 3,700 homes and around 60,000 m2 of commercial and public real estate in a number of phases over an expected period of around 10 years.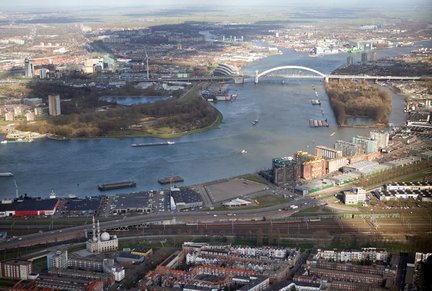 Programme of several sub-projects
The programme has been divided into a number of sub-projects. The first phase comprises the Stadskant (Rosestraat and Colosseumweg), Mallegatpark and Waterfront development locations. In the subsequent phases the Strip, Kuip Park and De Veranda development locations will be redeveloped or developed. The AM project Imagine (previously Parkstad-Zuid) will be added to the portfolio of the Feyenoord City development consortium. This project represents total revenue of around € 90 million and will commence in 2021.
Stigam and Rotterdam city council
Stigam is pleased to be working with the consortium. "This will be much more effective. It will enable us to deliver on the goals set out in the Master Plan and maximise our use of the know-how and expertise of two renowned companies", says Hans van Rossum, board member of the foundation. The Rotterdam city council backs the formation of the consortium: "These large companies can work together on an equal basis, which will improve the cohesion and quality of the area", says Sander Geenen, Stadionpark and Feyenoord City programme manager.